There's no place like Versailles, Kentucky. Known for its picturesque countryside, rock-lined fences, and all things bourbon, the city just west of Lexington is also home to Food Network Christmas Cookie Challenge competitor and 'Cheerful Baker,' Lauren Jacobs.
Perhaps best known for her appearance on Food Network, Jacobs is most beloved by friends, clients, followers, and colleagues for her humble, cheerful, and encouraging spirit. She regularly sports a bright smile and freely gives hugs.
"Lauren loves to bless and encourage others," said Denise Walsh, longtime friend, and owner of Miracles Bakery. "She is a giver and the most optimistic person I've ever met."
To her legion of social media followers, Jacobs is known as The Cheerful Baker, but the fitting title hasn't always been the name of her business. During the COVID-19 pandemic, her brother, a minister, challenged his congregation, including Jacobs, to allow the difficulties of that season to change them for the better.
This advice spurred her to demonstrate the love of God. She was reminded of the scripture in Proverbs 15 that says, "a glad heart makes a happy face," and knew that she needed to change her business name to "The Cheerful Baker." Not only would she deliver quality, elaborate baked goods, but her work would radiate the fruit of love and joy.
Those who encounter Lauren may not always know or understand the source of her good cheer, but it is impossible not to be touched by her love and joy. "She knows and embodies the secret of success in life – the more you lift others up, the more blessed you are," said Denise.
And indeed, Lauren has been blessed. In the winter of 2021, Jacobs entered the Gingerbread House Competition at Christmas at Mustard Seed Hill after a friend urged her to try it.
"I can't remember exactly where my little nativity scene finished in the Gingerbread Competition, but I know it didn't place very well," laughed Jacobs. "I remember walking in quite proud of what I had made, taking one look around and thinking, 'Uh oh. I'm in trouble.'"
But as often happens when one leads a faith-filled life, sometimes a defeat is a blessing in disguise.
A few months after the Gingerbread Competition, Jacobs received an Instagram message from a follower who asked if she would be interested in competing on Food Network's Christmas Cookie Challenge. The baker, who was busy making videos and filling custom cookie orders for local clients, was immediately skeptical.
"I thought it was probably a scam. I noticed that the inquiry came from what looked like an individual whose handle didn't seem to have any affiliation with the Food Network," Jacobs explained. "But I figured it wouldn't hurt to say yes and see what happened. When I got home, I checked my inbox and found an official email from the Food Network."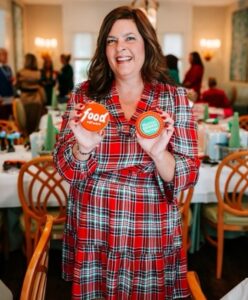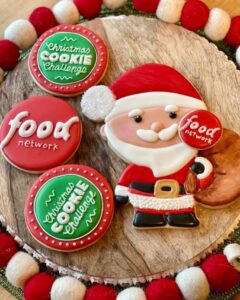 Among the qualifications necessary to be a Christmas Cookie Challenge contender was having experience constructing 3-D edible structures. At that moment, the Cheerful Baker realized that her previous disappointment was a ticket to her television debut.
A flurry of legalese and non-disclosure agreements later, Jacobs stood alongside four other competitors in the Knoxville, Tennessee Food Network studio, facing judges Ree Drummond (The Pioneer Woman) and Eddie Jackson (former NFL player and winner of Food Network Star), thoroughly prepared and ready to rumble.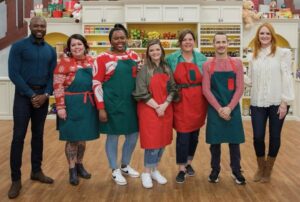 After making it through round one with flying colors, Jacobs advanced with two other bakers to vie for the golden ornament and $10,000 prize. The second challenge for the Cheerful Baker and the contestants of Season Six, Episode Six of the 2022 Christmas Cookie Challenge was to create 3-D vehicles for transportation to the North Pole, using the surprise ingredient of flavored soda pop.
Ultimately finishing runner-up, true to form, The Cheerful Baker asserts, "It would have been great to win, but I am thrilled at the outcome. While the prize money and accolades would have been nice, I already had a decent business and a blessed life. But for the girl that won, it was life-changing."
Basking in the notoriety of the Food Network debut, Jacobs leaned heavily on her art background and her techy husband's 3-D printer to expand her business. In addition to custom cookie orders, she now sells themed subscription boxes to a growing list of baking enthusiasts, complete with whimsical custom cookie cutters, templates, and virtual tutorials.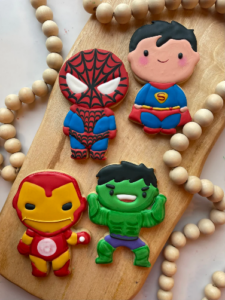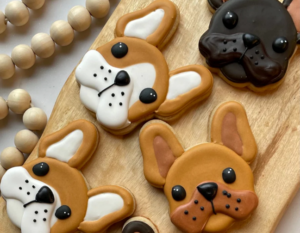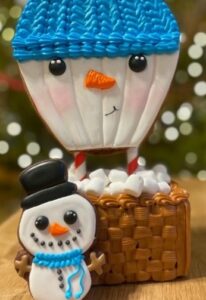 "Lauren is a gifted designer and has adapted her business model to be even more successful," said Denise Walsh. "The custom biscuit cutter she made for me has helped me reach new levels of efficiency at Miracles Bakery."
Later this month, Jacobs's journey will come full circle as she joins officials, entrepreneurs, and chefs to judge the entries for the 6th annual Gingerbread House Competition at Christmas at Mustard Seed Hill.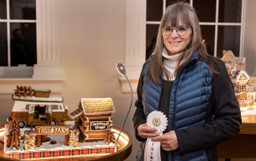 "I look forward to the amazing level of creativity that these bakers bring to this competition year after year, and I am so excited to be serving alongside such a great group of people," notes Jacobs. "Ultimately, I hope that the other contestants who may be chasing culinary dreams will be encouraged by my story. The Lord always has a purpose and a plan—even if He keeps it to Himself for a while," The Cheerful Baker added with a signature smile and a laugh.
The competition kicks off Christmas at Mustard Seed Hill, a month-long magical holiday event in Millersburg every Thursday through Sunday from December 1 -23. In addition to the 6th annual Gingerbread Competition, visitors can make memories and celebrate the joys of the Christmas season with a dazzling light display, a series of make-and-take holiday classes, a holiday tea, live music, a 4,000 square foot artisan market, holiday tent café full of Christmas goodies, and Christmas campfires for cozy s'more roasting.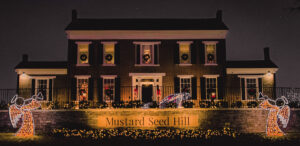 To purchase tickets to view entries in the 2023 Gingerbread Competition exhibit, visit mustardseedhill.events/christmas2023.
To learn more about The Cheerful Baker, follow her on Instagram @thecheerfulbaker.