For Kathy Meyer and Shon Wylie, both shepherds with farms located just outside of Millersburg, the founding of Kentucky Wool Works in 2019 was a way to help local farmers and educate the next generation of Kentuckians about natural fibers. It was a mission worth pursuing – to remind the industry that Kentucky's natural fiber and wool industry does work. Bridging the gap between producers whose animals grow the raw material and fiber artists who use wool in their work would benefit not only their bottom lines but also those of other regional farmers.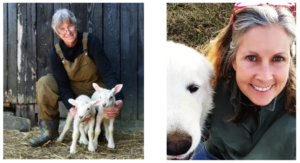 "Back in the day, sheep were integral to farming in Kentucky. Many horse farms kept a flock to maintain pastures and keep parasites in check through rotational grazing," explained Meyer. "And the wool they produced was added income. When petroleum-based fabrics became all the rage, sheep took the hit.
"As hair-breed sheep have been promoted to farmers as the better alternative, the numbers of wool-breed sheep have greatly diminished. To lose those genetics forever would be tragic, but that will happen if wool producers have no financial incentive to raise sheep that require shearing," said Meyer. With that in mind, Kentucky Wool Works was designed to generate demand for Kentucky-grown wool through their own felted products while simultaneously teaching a new generation of consumers about the myriad benefits of wool and other natural, sustainable fibers.
"Consumers need to understand how much better natural fiber products are for them, their animals, and the environment. Eighty percent of all clothes sold today are made from petroleum by-products that, when washed, shed microplastics into our water supply," emphasized Cate Edwards, a Boston transplant who, along with her husband Shawn, owns and operates Edwards Wool Mill in Scott County. "Farmers need a financial reason to keep growing wool because the slow-fashion industry, fiber artists, and businesses like ours depend on it. We appreciate that Kentucky Wool Works is championing the cause."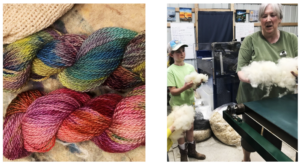 When Meyer and Wylie learned of Community Ventures' eagerness to attract new businesses to Millersburg as part of the nonprofit's revitalization efforts there, the women saw the perfect opportunity to launch and grow a business right in their own backyards.
Early on, Kentucky Wool Works operated from the basement of the Mustard Seed Hill gymnasium, and when the 2019 Christmas at Mustard Seed Hill's Artisan Market opened to shoppers, Kentucky Wool Works was ready with a locally crafted product line showcasing the wonders of wool and reclaimed fabrics in unique pet and home decor products and wearables.
Today, Kentucky Wool Works is one of six small businesses operating from Mustard Seed Hill inside historic McIntyre Hall, where MMI cadets once attended class. With a new business prospect and location on the horizon, it was the first to launch officially from the small business incubator.
When an entrepreneurial couple with sheep-farming roots from the UK recently came to Central Kentucky looking for help in bringing their vision for a stateside distillery/agritourism endeavor to life, Meyer was asked to lend her expertise, overseeing an embryo-transplant program that will produce the first purebred Valais Blacknose lambs here in the U.S. The collaboration will provide the perfect opportunity for Kentucky Wool Works to further its mission and reach a new market with its goods as they turn wool from the rare breed flock and their own into a gift shop revenue stream that benefits both businesses while shining a light on wool sheep producers across the Commonwealth.
"We have been so blessed by the running start Community Ventures and the business incubator gave Kentucky Wool Works," said Wylie. "We came to them with a concept, and not only did they provide business and marketing education free of charge, but they also made sure that our studio space had everything we needed to hone our skills, craft products, and share our love of natural fiber with others through our classes."
To learn more about Kentucky Wool Works, visit www.kentuckywoolworks.com.
To learn more about the business incubator at Mustard Seed Hill, visit https://cvky.org or email Victoria Benson at vbenson@cvky.org.